Learning German language in Nuremberg
Learning German in Nuremberg
Would you like to feel linguistically confident at work and in public life? Correct German is your best business card.
Every year more than 1.000 participants* (2018: 1.144) from a variety of different countries (2018: 79) learn German at linguademia.
The success rate of our course participants is far above the national average every year. For example, in 2018: 76% of the participants* in our integration courses achieved the B1 language target. The national average was 52% (source: BaMF – Keynotes Integrationscourses 2018).
linguademia offers German as a foreign language in
Language courses for private individuals, as well as
Professional language courses for companies.
Our team of experienced, native-speaking trainers* has played a major role in these successes.
They often know the hurdles and barriers to language learning from their own experience. Most of our teachers or their families come from Bolivia, Germany, France, Georgia, Iraq, Iran, Ireland, Romania, South Africa, Tunisia, Turkey and the United States of America.
Whether you're looking for
at linguademia you will find the optimal program for learning German at all levels.
Learning German language at linguademia
from the start,
to improve your language skills,
to find a better job,
to get the final linguistic polish for your stay in Germany,
your profession or
for student research projects.
Select your preferred course type/content:
Are you also interested in learning or improving your German?
Contact our Customer advisors right away.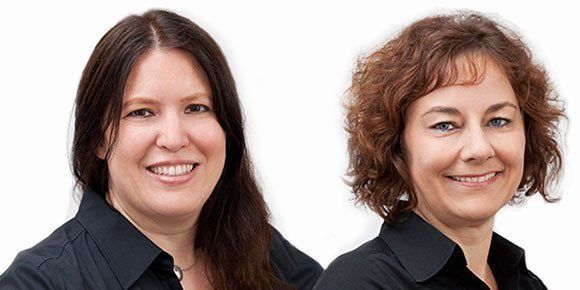 Your personal contact
Sonja Hoellein and
Simone Hoffmann
... it's all about communication.